---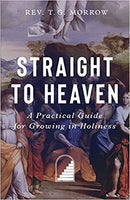 Sale
Straight to Heaven. A Practical Guide for Growing in Holiness
Sale price $13.00 Regular price $17.95
If you're hoping to get to heaven, you'll need a plan to reach your goal. Do you pray? Do works of mercy? And what about the sacraments? Been to confession lately? Are you doing any spiritual reading?
This handy manual not only presents all the elements of a successful life, it also helps you incorporate those elements into everyday practice. Straight to Heaven is the guide you need to achieve holiness now and heaven later.
(This is a slightly revised edition of the book Be Holy, which is now out of print.)
Endorsements: 
Fr. Thomas Morrow... speaks in a language that's all our own. He speaks to our deepest desires and highest ambitions and shows us their only satisfaction, our only happiness. What Saint Francis de Sales did for his generation, Fr. Morrow does for ours.
Mike Aquilina, Author, The Fathers of The Church.